The Normandie Restaurant is a lovely huge two level room. The opening in the middle exposed each level to the other, which gave the dinning room a feeling of grandeur we did not experience with Princess. Princess had 3 different, much smaller dinning rooms, each separated from the other. Further the ceilings in the dinning rooms were much lower than those on Pride, thus, while elegant and beautiful, they most definitely did not have the open grand feel found on Pride.
I will state right up front that we shared our table with 2 other very nice, very proper, lovely couples. Further, both couples were very experienced cruisers, thus we felt it might be improper to take photos while dining. So Sorry but we have no "food porn" photos.
The food on Pride was every bit as good as, if not in some cases, better than found on Caribbean Princess. I know that food is a very personal thing, however, insofar as our taste is concerned, we found every meal outstanding.
The food was tasteful, well presented and plentiful. Each and every meal was an experience that we enjoyed immensely.
The one and only thing that "disturbed" me slightly was their manner in handling tipping in the MDR. We opted, as we always do, for the automatic tipping. This gives us the peace of mind that those who deserve tipping will be given their proper due. We did this on Princess and we did so again on Pride.
So far So Good!! On Princess this was the beginning and end of tipping PERIOD! We chose to give a little extra to our room steward and waiter on Princess as we did again on Pride. However, at the disembarkation talk they told us they would be sending an envelope to each room should we wish to include a tip for the Maitre'D. I was at a loss. This had never been discussed on CC, my bible on cruise etiquette, and while he shook my hand and everyone else's as we entered the dinning room, he did little else while the waiter staff ran their feet off.
Now they are "strongly" suggesting we give him a tip. I did so, as I felt uncomfortable not doing it, when I was unsure as to how to proceed. Having said this, I believe strongly, that if you are going to have automatic tipping then that should be the end of the subject unless the Guest should decide otherwise. Having a suggestion such as this, to tip the Maitre'D, just put me off a little and thought it was somewhat tasteless.
W
hile the rooms and the food are the skeleton and skin of the Ship, Pride's heart and sole come from the Entertainment Staff and it's Cruise Directors. And… They are very good at it…
Unfortunately the most professional, most exposed and most inter-personal part of the cruise is also the one that is most protected by copyrights. I understand why, it is just a shame that the people that make this ship tick are also the ones, at their most professional, are not allowed to be photographed.
Let me start this part of the review with my impressions of the Cruise Director and his staff.
I am a seasoned cruiser with one whole cruise under my belt (but it was a 10 day cruise) before boarding Pride. Again let me tell you how impressed I was with Princess, and will sail with them again in the future, however if there ever was a difference between these two ships it lies clearly in this department.
Every member of the Cruise Director's staff was a true professional. I watched them as they interacted with the Guests and they were warm, welcoming and very inclusive. It amazed me how Kirk and Jaime were able to remember the names of the guests they encountered on more than one occasion. This has always been a weakness of mine (remembering names) but these two have this down pat.
While the Cruise Director Staff on Princess was available to the Guests, it took Kirk and his staff to show me just how a Cruise Director Department should operate. They were silly when they needed to be, funny when they needed to be, serious when they needed to be, and again… very inclusive. They not only got people to participate but they got them to want to participate. There is a huge difference between the two.
Every time I saw either Kirk or Jaime talking with someone, they appeared to not just be listening to what the Guest was saying, but they seemed to be genuinely interested in what was being discussed. Now this staff meets thousands of different Guests each and every week, and to be able to maintain this level of interaction day after day, week after week, Guests after different gaggles of Guests is a true talent. Pride is very lucky to have them.
The Theatre Shows were the best I have seen. I will admit here that I found some better than others, however, on average they were outstanding. I want to focus on one in particular, which was on Monday night. I do not know the name of the production and revisiting the FUNTIMES did not help me as it just says "Showtime", but it was a show highlighting dances from around the world. What impressed me were the choreography, stage props and most of all the transitions between scenes. I could easily compare this show to a production expected at the Theatre back home. This show was way over the top and the dances and singers were extraordinary. I just can't say enough about them, I was truly impressed.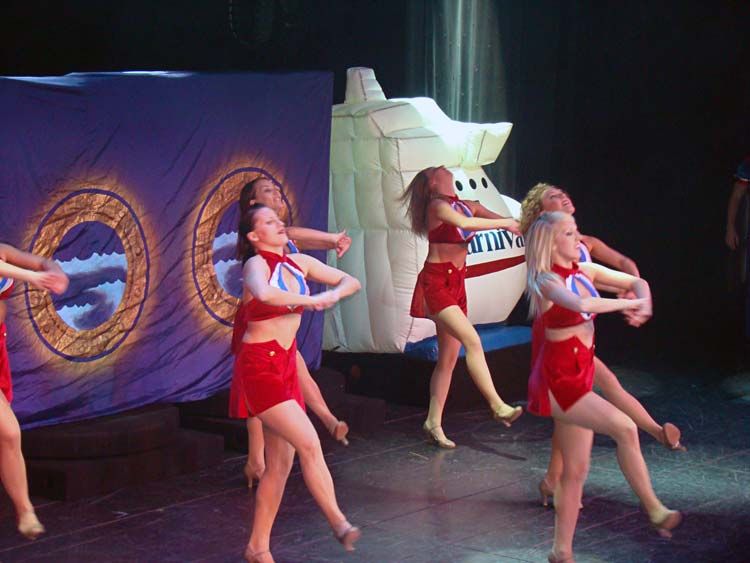 Photos of Welcome Aboard Show (no announcement about copyright)

Between Baltimore and Port Canaveral we were fortunate enough to have a guest singer on board who performed in the Theatre on Tuesday night. Please excuse me here, but I think his name was Marcus Anthony (that may be incorrect). This man was a true pleasure. He could sing and capture a crowd like no one I have seen before. Pride had an early show for late diners and late shows for early diners. We were so impressed during Marcus' first show we discussed the possibility of skipping supper and watching his second show. Now to be on board a cruise and actually think about missing a meal should tell you just how much we enjoyed this man. He was Great!
We are not game show/trivia type people and I would much rather sit by a window a watch the ocean, thus have little I can say about these venues. I pay money to be on the sea, and thus like to spend every possible moment on board near and in view of the water.
The "casual" entertainment throughout the ship was of the same caliber as the rest of this department. Everyone, without exception, was a professional and his or her obvious talents were well displayed.
We were very lucky when we first boarded the Pride. We went for a quick lunch at the Mermaid Grill. Understandably, ever table was taken so we asked this couple if we could join them. We were lucky enough to have our first meeting with who was to become "Pride's Celebrity of the week" and his wife.
Steve (the celebrity) and Kim (his lovely wife) grew to become friends of ours during the cruise and each day, at each event we found ourselves searching them out. They were a delight to meet and we enjoyed our time with them very much.
Here is the 3D photo I promised them, with the Cruise Director and his Assistant:
Could I make a recommendation to the Pride and/or Carnival Cruise Lines it would be as follows:
If you are going to make announcements during the day, I would recommend they be ones that the passengers would find useful. As we sailed out the first day at sea we passed a "group" of dolphins. While we all knew when bingo was going to take place, only if you were lucky enough to be on top deck did you know about the dolphins. On the return, apparently, we passed a US aircraft carrier in launch and recover operations, there was even a rumor that a sub may have been sighted. Nary a mention was made of these on the PA system.
While many wanted to know about Bingo, I am certain that everyone would have loved to have known the info about the Carrier and the dolphins. Why the bridge didn't let us know is beyond my comprehension.
Having gotten that off my chest: Overall impressions and preferences are hard to evaluate and put into a comprehensive post. This will be based on my personal impressions of such things as:
The feel of the ship
The décor
The cleanliness
The Cabin
The service
The food
The entertainment
The friendliness of the crew;
AND the price.
Of course the ports of call also play a part but for my purposes I have decided to ignore these and focus just on the ship itself. We most certainly did not choose this cruise because of the ports of call, for us it was an escape cruise just for the love of cruising. We booked this cruise with the "Oh well, for the money, what have we got to loose?" attitude. Having only experienced Princess and all web sites we visited rating them higher than Carnival we had reservations.
I can state emphatically that there was little I would rate below Princess. Pride is a beautiful ship with a conscientious and friendly crew. She is clean, well maintained and easy to move around on (in), even with a full complement of Guests. The staff was every bit as friendly and helpful as Princess and our cabin was more spacious than the one we had on Princess. I did, however, find the cabin layout on Princess to be somewhat more comfortable, but this was far overshadowed by the comfort of the beds on Pride.
I could go through each and every aspect and make similar comments but let me just sum it up by saying this: I would not, for even one second, hesitate to book a Carnival Cruise again. They are professional, friendly, inclusive and entertaining.
NOW: for the most important part of the comparison…. The Price.
We were able to book this cruise, 7 days in a balcony stateroom for 1/3 the best price I could find on any Princess cruise (similar cabin category). I know that there are variables such as port of embarkation, time of year, and capacity all play a role BUT 1/3 the price of the other is a significant consideration.
This was the original basis for our decision to choose Carnival, now we have had the experience of a Fun Ship and look forward to our next. We most certainly will sail Carnival again, as we will Princess.
If you are a Princess Cruiser, I urge you to put any trepidation, you might have, aside, it has no place here. Carnival provides a wonderful experience on a beautiful ship and I have no reason to believe it would be any different on any of their other ships.
Next Post: Cape Canaveral and Kennedy Space Center