Our first view of the Pride was the same as when we saw our first cruise ship.
You must understand that I have a deep love of the sea and all ships.
I could spend the rest of my life just watching the operation of a harbor as ships arrive and depart.
This being the case there is a thrill in seeing the Pride for the first time that is difficult to express in words.
I saw a beautiful ship with wonderful lines and overall appearance that was clean and elegant.
The glitter of the glass from the blue tinted balconies shining in the sunlight glittered like that of sparkles on a dancing showgirl.
Even though Pride is a significantly smaller ship than Caribbean Princess she is still an impressive sight as you first view her from the highway.
We departed the Brookshire Suites at 12:30 and were on board Pride by 1:45pm. The embarkation process was swift and hassle free.

I would say that, while Princess seems to have a reputation for easy embarkation, Carnival Pride was equal in all respects.

Absolutely everyone we encountered, longshoremen, Carnival Assistants, Ticket agents and even the tired fellow travelers, were happy and fun to encounter.

I can't imagine an embarkation that could have been easier or more efficient.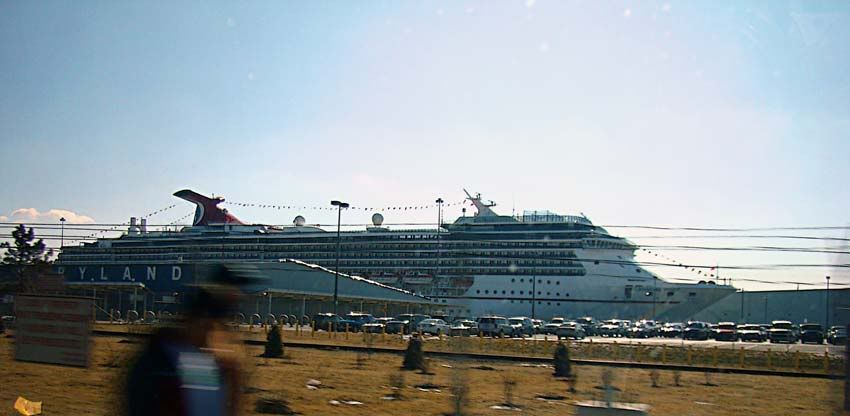 When we boarded the Pride we entered into the Main Atrium.
This was my first shock at the interior of the Pride.
Having sailed Princess the décor of Pride was "somewhat" different.
I understand that each ship and even each cruise company cater to different demographics and as such we encountered our first difference between Carnival and Princess.
I must state here that I found Princess to be a comfortable fit for our likings.
I enjoy their interior with it's elegant marble staircases and beautiful art to be more to our taste.
That being said, my first impression of Pride's interior was that it was heavy, dark and "in your face".

I could never escape the feeling during our cruise that the Atrium was designed after a pirate ship.

The main staircase always reminded me of a staircase one might encounter at the aft section of the upper deck on a wooden sailing ship.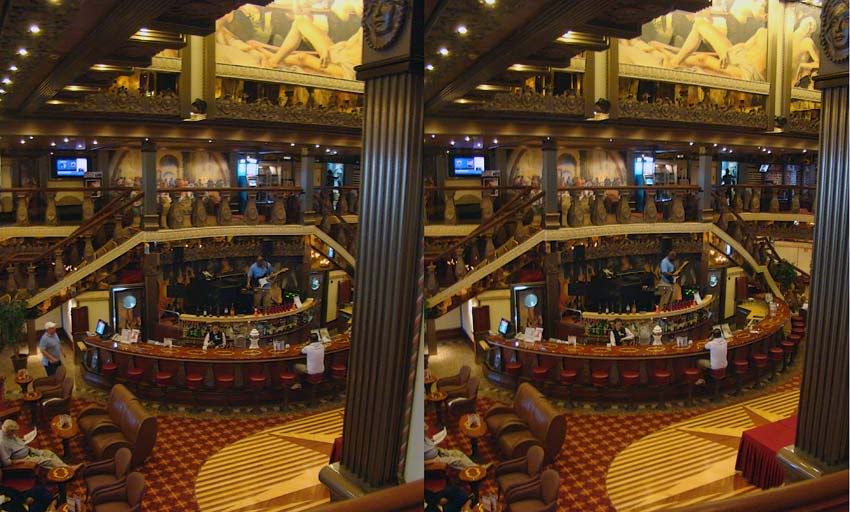 This was most evident on Formal Evenings.
There were beautiful women of all ages dressed to the nines and all of them gathered in the atrium that, to me, seemed to be completely out of place.
Jeans and tee shirts seemed to be more the order of the day for the décor surrounding the guests (again IMHO).
While most of the art is reproduced art of some of the greatest masters know to man, I felt that there was no need to extend this to the wallpaper in the hallways of the ship.
I felt this gave the ship a feel of being a theme park rather than the glamorous hotel this ship could have been.
Next post "First Views" continued.